Home » Featured, Headline, Inspirational, Motivation
What is 'Memorial Day'?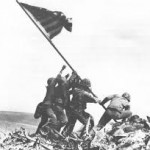 by John Cane
Memorial Day (originally called Decoration Day) is a day of remembrance for those who have died in our nation's service– one day out of the year for the nation to get together to remember, reflect and honor those who have given their all in service to their country.
Unfortunately many people have forgotten this and just see this day as an opportunity for a 3-day weekend and maybe do some grilling outside.
In 1915, inspired by the poem "In Flanders Fields," Moina Michael replied with her own poem:
We cherish too, the Poppy red
That grows on fields where valor led,
It seems to signal to the skies
That blood of heroes never dies.
She then gave birth to an idea to wear red poppies on Memorial day in honor of those who died serving the nation during war. She was the first to wear one.  She then sold the poppies to her friends and co-workers and gave the money to servicemen in need.
Later a Madam Guerin from France was visiting the United States and learned of this new custom started by Ms.Michael.  When Madam Guerin  returned to France, she made artificial red poppies to raise money for war orphaned children and widowed women.
This 'idea' spread to other countries. In 1921, the Franco-American Children's League sold poppies to benefit war orphans of France and Belgium. A year later, Madam Guerin spoke to the VFW for help.  In 1922 just before Memorial Day, the VFW became the first veterans' organization to sell poppies nationally and two years after  their "Buddy" Poppy program was selling artificial poppies made by disabled veterans. In 1948 the US Post Office honored Ms Michael for her role in founding the National Poppy movement; The US Post Office issued a red postage stamp with her likeness on it.
Sometimes we lose sight or don't see the big picture of why what we do is important to others.  We may let fears get in the way; fear of failure, fear of what others think, fear of judgment, etc.  Humans are compassionate by nature.  This means we really do like each other, and want to take care of each other.  As the above story tells, our acts to serve one another naturally affects others in a way so compellingly human it cannot be ignored.
Maybe if we thought of our "success" as something which was not material in value, but as a gift for ourselves which naturally is a benefit to others, maybe fear wouldn't be as much of an issue in moving forward.  Part of the definition of "success" is "to be happy".  I think it is fair to say all of us can be happy.
A friend who later passed away unexpectedly once asked me when I was troubled, "John, what's the price of peace of mind?"  My response was immediate, as if it was a no-brainer.  Funny thing was though, no one had ever asked me that question.  It came from a place that produced that a-ha feeling.  My response was, "There is no price."  He said, "That's right."  With my a-ha feeling came the thought, "What am I doing?"
If we step back a bit we can see the things that we let get in the way and do something about them– give it our all.  Maybe we can say to ourselves, "It's not that bad, it could be worse."
I met a Russian woman recently who reminded me of how lucky I am and reasons to be happy.
She said, "People come to America because no matter how far off center you get, you always come back and you overcome things."  I get teary as I write this.
She also said, "People come here for political freedom."
Sometimes we think we've "given our all" to do what is needed to succeed, but if we don't get what we feel "success" is, we stop trying.  'Trying' does count.  'Trying' is part of our personal and cultural freedoms.
Maybe part of 'Memorial Day' is about giving our all and remembering why we can do that.
Thank you, thank you, thank you to all the women and men who gave their all so we can keep trying to do the same.
About the Author
John Cane is a motivational speaker and writer who develops and implements confidence and self-esteem workshops in North Carolina, South Carolina, and New York. With a background in Psychology, John has six certifications in Personal Growth and Development.  His Journal Books, 'Important Things I Remember from My Parents' are used in schools and as an aid for adults in gaining strength in self identity in the United States and Europe.
(Leave us a suggestion for articles you would like to see.  We will do our best to suit your needs!)