Home » Featured Books
Featured Books

You'll See It When You Believe It
From Publishers Weekly
Following his bestselling Your Erroneous Zones , et seq., this encouraging, helpful volume augurs an increase in Dyer's audience. Citing the wisdom of ancient and modern philosophers, the author adds incidents from his experiences to illustrate the benefits of spiritual guidance and possibilities of transformation. Serendipity, or what Dyer believes are miracles, have given him riches that he declares are available to all. He counsels that one must first see the human as a soul with a body–not the reverse–to realize supposedly impossible dreams. Dyer describes the blessings he and others have gained from getting rid of anger, fears and the desire for revenge: impedimenta to the good life. The advice, while generalized, is not simplistic and will, on the evidence he adduces, likely convert many doubters to Dyer's faith in a universe ruled by a divine provi dence. Literary Guild alternate.
Copyright 1989 Reed Business Information, Inc. –This text refers to an out of print or unavailable edition of this title.


When God Winks
Editorial Reviews
It is not by accident that you just picked up When God Winks. Whether you call it synchronicity or coincidence, what brought you to this book today is worth remembering. In fact, you may have suspected all along that there is more to coincidence than meets the eye. These seemingly random events are actually signposts that can help you successfully navigate your career, relationships, and interests. SQuire Rushnell shows us that by recognizing our "God Winks," we can use the untapped power of coincidence to vastly improve our lives.
The author applies his compelling theory as to why coincidences exist to fascinating stories in history, sports, medicine, and relationships involving both everyday and famous people including Barbra Streisand, Charles Schulz, Oprah Winfrey, Kevin Costner, Mark Twain, and Presidents John Adams and Thomas Jefferson.

Mastery of Love
Editorial Reviews
In The Mastery of Love, don Miguel illuminates the fear-based beliefs and assumptions that undermine love and lead to suffering and drama in our relationships. Using insightful stories to bring his message to life, he shows us how to heal our emotional wounds, recover the freedom and joy that are our birthright, and restore the spirit of playfulness that is vital to loving relationships. Using teachings from the three Toltec Masteries (Awareness, Transformation, and Love) as a foundation, don Miguel brings to light the fallacies and misplaced expectations about love that permeate most relationships. He gracefully shares his wisdom through delightful and engaging stories that clarify each point and bring his message to life.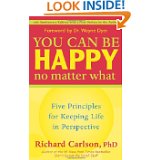 You Can Be Happy No Matter What
Review
Many people believe they can only be happy when their problems are solved, relationships improve, and goals are achieved. In this simple guide, Dr. Richard Carlson shows readers how to be happy right now — no matter the situation. His plan, based on the principles of Thought (thoughts are voluntary, not involuntary);Mood (thinking is a voluntary that varies function varies from moment to moment and these variances are called moods); Separate Realities (everyone thinks in a unique way and lives in separate psychological realities); Feelings (feelings and emotions serve as a barometer for when one is "off-track" and headed for unhappiness); and the Present Moment (the only time when genuine contentment, satisfaction, and happiness).  This timeless book guides readers through life's challenges and restores the joy of living along the way.
In this revised edition, #1 New York Times bestselling author and nationally known stress-management consultant Dr. Richard Carlson reveals a profound breakthrough in human psychology. Most of us believe that our happiness depends on outside circumstances, that by solving our problems, improving our relationships, or achieving success we will find contentment. But Dr. Carlson clearly shows that happiness has nothing to do with forces beyond our control – in fact, he says, it is our natural state.