Home » Featured, Happiness, Headline, Inspirational, Love, Managing Emotions, Philosophy, Relationships, Video
Love — You're Doing it Wrong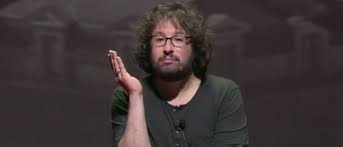 Post #871
Friday Video: TED Talk – In this delightful talk, philosopher Yann Dall'Aglio explores the universal search for tenderness and connection in a world that's ever more focused on the individual. As it turns out, it's easier than you think. A wise and witty reflection on the state of love in the modern age. (Filmed at TEDxParis.)
Yann Dall'Aglio is a philosopher who thinks deeply about modern love.
Why you should listen
Philosopher Yann Dall'Aglio writes about love in the digital age. His two books, A Rolex at 50: Do you have the right to miss your life? and I love you: Is love a has been? explore the challenges and triumphs in the modern era, where individualism and consumerism reign. His work is a declaration of his faith in love, a major feat for a skeptical philosopher.

[ted id=1925]