Home » Featured, Headline, Problem Solving
My Ex Girlfriend Says She Still Loves Me! Why You Should Be Wary of This.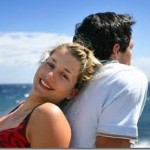 Author: Gillian Reynolds
"My ex girlfriend says she still loves me." It's what any guy who still adores his ex wants to hear himself saying. What could be more perfect than hearing your ex tell you that she still is crazy about you? It's what you've longed for since the break up, right? You wished for this moment and now you're already fast at work planning all the wonderful things you two are going to do together as soon as you get back together again. There's a slight problem though. The fact that your ex girlfriend still loves you doesn't mean a lot in the big picture. If you place too much hope in her words, you may actually end up even more heartbroken than you already are.
Men and women tend to react very differently after the end of a relationship. If a man initiated the break up he'll often just disappear from his ex girlfriend's life because he's ready and more than willing to move on. That's not to say that he's not going to feel some degree of regret or emotional pain. He more than likely will. However, if he's given the break up a lot of thought, he's certain that he's no longer in love with his ex and he's looking forward to the rest of his life, he's in a good emotional place.
Women are driven more by emotions after a break up, even if they were the ones who decided the relationship wasn't working anymore. We often still feel a strong emotional attachment to our ex boyfriend long after the split. That's why women will sometimes say that they still love their ex boyfriend. They do, but not in a romantic sense. If a woman says she still loves her ex boyfriend she often is speaking of a friendship type love. In other words, she cares deeply for him and is concerned about what happens to me. It doesn't necessarily mean she's eager to seek out a reconnection or a reunion with him.
You can easily tell whether your ex girlfriend's professing her love to you is based in a romantic place or not. If she is actively trying to get you to reconsider the break up, she's definitely still in love. That means she'll be calling you often with a desire to discuss what went wrong between you two and what you both can do now to remedy the issues that tore you apart. A woman who is still in love with her ex boyfriend, in the truest sense of the word, is going to hold on for dear life and won't let him slip away.
If your ex girlfriend just randomly told you she still loves you but her actions suggest she's moved on, don't ignore that. She may simply have wanted to express to you that she still cares for you and used the word, "love" because it has a place in the connection you two once shared. Pay the most attention to her actions. If she's not putting in any effort to try and mend the broken fences between you two, her words don't hold as much meaning as you wish they did.
Article Source: http://www.articlesbase.com/breakup-articles/my-ex-girlfriend-says-she-still-loves-me-why-you-should-be-wary-of-this-5521720.html
About the Author
Confused about how to win her back? Saying or doing one wrong thing can impact your future with the woman you love.
Learn the step-by-step guaranteed plan to get her back now. You've only got one chance to win her back so make it count.