Home » Behavior, Featured, Happiness, Headline, Managing Emotions, Self Esteem, Success
7 Things YOU Can Do to Overcome "Control Feakdom"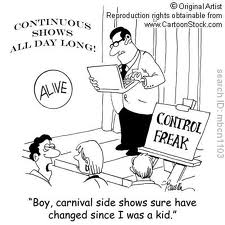 Article #657
Author: Karen Keller
The good news is you can stop yourself from being a control freak. I have worked with women who sincerely want to lessen their anxiety and attachment to control. Here are 7 things you can do to overcome being a control freak:
1. Keep your cool. Distance yourself from the situation you want to control. Focus on your breathing and center yourself. Prior to getting into a 'control' situation create a mantra that will calm your mind and your desire to control. 'Controlling myself is my goal.' Or 'I am free of needing to control everything.' It's important to relax.
2. Slow your speech. Listen to what you are saying. Is this how you want to come across? Are you using words that are nonthreatening? What questions can you ask to encourage collaboration?
3. Be patient with yourself. This won't happen overnight. Identify the regularly occurring times when you control the most. For example, with your kids, your spouse, or your staff. Know ahead of time what you need to do differently before you're in the situation. Plan ahead.
4. Control your reactions AND emotions. There is no need to participate in power struggles or personalize what is going on. State your wants and needs. Get them met when in healthy ways. Warning: you will feel overcome with the desire to control. Don't give in to it!
5. Listen to yourself. Ask yourself questions to heighten your awareness in what is happening right in front of you. This is calming and reassuring.
6. Choose things you can (and should) control. Pace yourself. Pace the conversation. Pay attention to what is within your boundaries and what affects you. You don't have to stop being in control of everything.
7. Be kind to you. Stop demanding that you take charge. Stop being responsible for everything in sight. Impossible! Being a control freak is self-abusive.
Remember, you are trying to protect yourself when you become a control freak. There's a better way – honor your sense of self and self worth. Walk away – leaving the control freak behind. Let go of 'her' and grow.
Article Source: http://www.articlesbase.com/self-improvement-articles/7-things-you-can-do-to-overcome-control-feakdom-3829540.html
About the Author
Karen Keller, Ph.D. is an expert in women's leadership and assertiveness training. She specializes in the skills of influence and persuasion, executive coaching, mentoring, sales techniques, management development training, personal life coaching, and corporate training. Discover the Real POWER for Women now!