Home » Featured, Happiness, Headline, Managing Emotions, Problem Solving
How to Break Out of a Victim Mentality: 6 Powerful Tips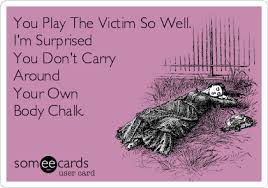 Article #662
Author: Kerry
I realize that this may come off a bit harsh. Indeed, you'd be correct. Chasing away the blues is never fun. Many of you have friends and family who will be there to lend a helping hand or offer kind words of encouragement, which is nice but it probably isn't working. If you are down and have no one to turn to, entertaining a victim mentality isn't going to be very beneficial if there's no one to watch. Here's the no hold barred (stop the whining) version as intended for those who are just in a rough patch and not in dire straights…
1. Refuse to play the victim.
In order to break out of the victim mentality you have to give up your sympathetic coddle me syndrome.
2. Take responsibility for your life.
Self-esteem is a myth perpetuated in the '80's by talk show hosts. You must realize that you've been conned. You either like yourself or you don't. If you do, you probably wouldn't be searching for ways to cope and if you don't, well, change. It really is that simple.
Good things happen and bad things too. It's normal. Furthermore, it is okay to feel down when you've been hurt. This isn't depression, it's your way of coping but soon enough something will come along that you can find joy and happiness. It's a vicious cycle.
3. Get over your narcissism.
Asking why me can be a good thing- when done in moderation. Use it to assess what it is that you have done or continue doing that ends up in a hurtful situation; then deal with it and fix it.
4. Forgive.
Forgive those who have done you wrong. Harboring unforgiveness is doing you no favors and only serves to bring you down. Absolutely do not confuse this with forgetting. If you forget it, you are setting yourself up to be found in the same situation all over again.
5. Turn off the television.
This cannot be stressed enough. Endless commercials telling you that you are depressed and that you need to be on this phony depression pill or that one does not help anything and will serve only to turn you into a numb zombie like being. These commercials are designed to make you feel sad and hopeless. The psychotropic serotonin drugs are all black lable which means they make you suicidal. Do not take them. If you are on them- Get off of them as soon as possible, refer to these steps and take charge of your own life.
6. Shift your focus.
Find something else to do. Be it taking cookies to an elderly neighbor, a hobby or learning a new skill. Contrary to popular delusion, now is not the time to solve other people's problems. Their pain and anger will only feed your own.
7. Fire your shrink.
As a former head-shrinker who got tired of all the b.s., I advise that you terminate all contact with your shrink (*see disclaimer ), A.K.A. someone you pay exorbitant amounts of money to have them pretend they are your friend. Get a real friend.
Disclaimer: Obviously there are certain people who really do need professional help and should skip this step as it is intended for those who are just a little down.
Article Source: http://www.articlesbase.com/advice-articles/how-to-break-out-of-a-victim-mentality-6-powerful-tips-3679547.html
About the Author
Hi! I'm Kerry. I like to shop, sell, craft, inspire, learn things, review products and tutorials, tiny houses, home interior/exterior patio decorating, gardening/landscaping, natural health, dogs, horses, cats, rats and chickens.
You are invited to visit her web site at
cdakidscrafting