Home » Featured, Happiness, Headline, Identity, Relationships
Reasons to Stay Single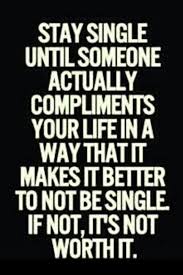 Article #646
Author: EMMA WANJIKU
In a world where the dating scene has become chaotic, more and more singles are opting to go the lone path. Being single is no longer a taboo practice and as many have discovered, there are so many reasons why you can opt for singlehood. There are so many advantages and the following points might just show you why you need to cherish your single state and enjoy every minute of it.
First (and this is going to touch on women more), you will avoid becoming fat. If you are wondering what relationships and fat have in common, you might want to look at the recent Cornell University studies that have shown that most people who enter in marriage or long term relationships will gain 5 to 8 pounds within the first few years.
For those who are in unhappy relationships, the first 10 years will see them gain over 54 pounds. The main reason for this is once people enter into relationships, they tend to relax and are no longer active or self conscious as they were when they were single. Singles will always want to look good for potential mates and this is the reason why they will not let themselves go.
According to the British Medical Journal, people in marriage or long term relationships will not have better sex compared to those that are single. However, even though the married people will record a high volume or frequency of sex, a large number of 'bored lovers' will be recorded in the married people category or those in steady relationships. The reason is said to be that the element of mystery and excitement is compromised and somewhat confined.
According to the National Sleep Foundation, sleeping two in a bed will lead to lack of relaxation and rest for partners. This is to say that if you are single, you will enjoy your sleep better. According to the foundation, a person sleeping next to you will cause you to loose up to 49 minutes of sleep each night. This is not taking into consideration the interruption that is caused by those who snore and the like.
Being single will allow you rest and you will be healthier and smarter because of this. Statistics by World Health Organization show that women who are married with children will be prone to depression and other mental problems. Therefore being single might just be the ticket away from the nuthouse.
The London School of Economics has found that singles that focus on career achievements will end up boasting bigger and better successes compared to those that get married early. This is because they have an innate drive to break the barriers and change circumstances for a better future. This drive for singles is undeniable because they want their future families to have it as best as possible.
There are so many other reasons for you to stay single and you can be sure that they are worth considering. If you are one of those people who are beating themselves down for being single, perhaps it is time to look at your life again and realize that you are missing out on the joys of singlehood.
Article Source: http://www.articlesbase.com/dating-articles/reasons-to-stay-single-1258258.html
About the Author
The author has been working to compile numerous relevant articles on all information that affect you. Her extensive experience in research will make your process of information search on anything worthwhile and interesting. Visit http://www.emmalifetips.com for more.