Home » Boosting Creativity, Communication, Decision Making, Education, Featured, Headline, Inspirational, Leadership, Problem Solving, Success, Video
How to Manage for Collective Creativity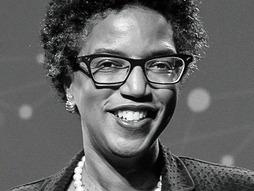 Post #902
Friday Video: TED Talk – What's the secret to unlocking the creativity hidden inside your daily work, and giving every great idea a chance? Harvard professor Linda Hill, co-author of "Collective Genius," has studied some of the world's most creative companies to come up with a set of tools and tactics to keep great ideas flowing — from everyone in the company, not just the designated "creatives."
Linda Hill studies collective genius — the way great companies, and great leaders, empower creativity from many.
Why you should listen
Linda A. Hill is the Wallace Brett Donham Professor of Business Administration at the Harvard Business School. In 2014, Professor Hill co-authored Collective Genius: The Art and Practice of Leading Innovation. It features thick descriptions of exceptional leaders of innovation in a wide range of industries—from information technology to law to design—and geographies—from the US and Europe to the Middle East and Asia. Business Insider named Collective Genius one of "The 20 Best Business Books" in summer 2014.
She is the faculty chair of the Leadership Initiative and has chaired numerous HBS Executive Education programs, including the Young She is the co-author, with Kent Lineback, of Being the Boss: The 3 Imperatives of Becoming a Great Leader and Breakthrough Leadership, a blended cohort-based program that helps organizations transform midlevel managers into more effective leaders. Breakthrough Leadership was the winner of the 2013 Brandon Hall Group Award for Best Advance in Unique Learning Technology. The book was included in the Wall Street Journal as one of the "Five Business Books to Read for Your Career in 2011." She is also the author of Becoming a Manager: How New Managers Master the Challenges of Leadership (2nd Edition). She heads up Harvard's Presidents' Organization Presidents' Seminar and the High Potentials Leadership Program, and was course head during the development of the new Leadership and Organizational Behavior MBA required course.

[ted id=2210]