Home » Boosting Creativity, Confidence Building, Decision Making, Featured, Headline, Inspirational, Problem Solving
Creativity: Freeing Our Inner Demons (Part 1)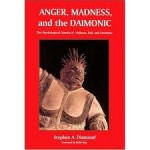 What is "Creativity"?  The dictionary says, 1. Being creative; the quality of being creative. 2. Imaginative ability; the ability to use the imagination to develop new and original ideas or things, especially in an artistic context.
Okay, so it pretty much says creativity comes from the imagination and is original.  I guess that would go without saying, considering that all of our individual realities are of our individual minds—minds that rationalize their own existence.  Too much, too soon?
Well as you read on you will see just how far creativity can go and how some harness their creative responsibility and for some it is dangerous to themselves and others.  For you creative types out there, feel better knowing that it's not just you that feels like you may have a psychiatric disorder at times—it goes with the territory to think the unthinkable to be original and create something from nothing.  – Self Help Guides
What follows are excerpts from an interview with Dr. Stephen Diamond. 
A clinical and forensic psychologist, Dr. Diamond works with many talented individuals committed to becoming more creative. "Creativity," he acknowledges, " is one of humankind's healthiest inclinations, one of our greatest attributes."
In his book, "Anger, Madness, and the Daimonic: The Psychological Genesis of Violence, Evil, and Creativity," he explains that our impulse to be creative "can be understood to some degree as the subjective struggle to give form, structure and constructive expression to inner and outer chaos and conflict."
"It can also be one of the most dynamic methods of meeting and redeeming one's devils and demons."
Diamond says there is a "very strong correlation between anger, rage and creativity, one which most people are not aware of. Most of us tend to view anger or rage negatively, associating it almost exclusively with destructiveness and violence. Certainly this correlation exists. But anger can also motivate constructive and creative behavior."
In the foreword to Diamond's book, psychologist Rollo May introduces and defines the classic Greek conception of the "daimonic" or darker side of our being, taking note of  "the daimonic (unlike the demonic, which is merely destructive) is as much concerned with creativity as with negative reactions. A special characteristic of the daimonic model is that it considers both creativity on one side, and anger and rage on the other side, as coming from the same source. That is, constructiveness and destructiveness have the same source in human personality. The source is simply human potential."
Diamond maintains that creativity may be a powerful and often dark undertaking: "The more conflict, the more rage, the more anxiety there is, the more the inner necessity to create. We must also bear in mind that gifted individuals, those with a genius (incidentally, genius was the Latin word for daimon, the basis of the daimonic concept) for certain things, feel this inner necessity even more intensely, and in some respects experience and give voice not only to their own demons but the collective daimonic as well. So they are kind of like little oracles of Delphi, or canaries in a coal mine, sensing the dangers, the conflicts, the cultural shadow, and trying to give it some meaningful expression."
Diamond, talking about his gifted patients and artists in general, he adds, "Who wouldn't be a little neurotic having that kind of responsibility? But, as Freud recognized, we're all neurotic to some degree. And as Jung once said, we all have complexes. That is not the question. The only question is whether we have complexes or they have us."
He claims that most mature artists "realize the relationship between rage and creativity. It is their rage that, when redirected and channeled into their work, gives it the intensity and passion that performing artists such as actors and actresses seek."
"Al Pacino's, Robert DeNiro's, Jack Nicholson's and Jessica Lange's work are excellent examples. These artists have learned how to harness the power and intensity of their own rage (among other daimonic emotions), deliberately tapping into their personal demons to animate and intensify their acting.
"Creativity, then, can in part be thought of as the capacity to express the daimonic constructively. This is what all great artists do."
In tomorrow's Part 2 issue (in a series of 4) of Creativity: Freeing Our Inner Demons:
Acting out is a compulsive, unconscious and generally destructive expression in life of the exact same feelings the actor expresses on the stage or set. But the actor deliberately, and largely consciously, chooses to express the daimonic artistically — and this is therapeutic insofar as…"
"…takes great courage. It is an enormous struggle with one's self, a coming to terms with who one really is and…"
In his book, Diamond writes about a number of well-known and accomplished artists who show evidence of varying degrees of success in accessing and expressing their demons in positive ways.
About the Author
Stephen A. Diamond, Ph.D., is a licensed clinical and forensic psychologist (PSY11404) practicing in Los Angeles, and a former pupil and protege of existential analyst Dr. Rollo May.  In addition to specializing in providing existential and depth psychologically oriented psychotherapy to adult patients for the past 35 years, Dr. Diamond is a former member of the Forensic Panel for the Santa Clara County Superior Court and Approved Panel of Psychiatrists and Psychologists for the Superior Court of Los Angeles County (Criminal Divisions), conducting forensic evaluations and serving as an expert witness in various criminal cases.
Leave a comment for articles you would like to see.  We will do our best in researching what you need!
Dr. Stephen Diamond has been a licensed and actively practicing clinician for more than thirty years, specializing primarily in existential and