Home » Confidence Building, Decision Making, Featured, Goal Setting, Headline, Inspirational, Motivation, Problem Solving, Self Esteem
How To Manage Fear And Rejection And Still Be Successful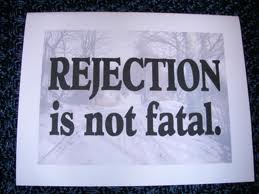 Author: DonnaRios
For many of us when we hear the word NO, it can seem like a brick wall 100 feet These two letters can seem like the biggest hurdle and road block in some of our lives.
In a study of business professionals about their fears and motivations the results are astounding;
" 51 percent said their biggest fear is that the customer will say "no" and reject them.
" 38 percent said the willingness to face rejection is the Number One quality of a great salesperson.
The Fear Of Failure and Rejection upon your teams performance needs to be Fear is one of the biggest obstacles that anyone in the business world will come These Fears come in different packages, but one thing is for sure that all Fear is meant to HOLD YOU BACK….to stop you in your tracks, to get you focused on the negative and not the positive. Fear of any kind will not allow you to reach the success that you desire.
So how do we Conquer this hairy monster that is constantly holding us back.
" Begin to change your thought patterns about failure. We can look at Success and Failure as opposites on the playing field. Either we go one way or the other. But we need to see Failure as a Stepping Stone to our Success. We do have to go through Failure to achieve Success. It looks like this: YOU——Failure—–Success
" Most books and course address the psychological factor of fear while neglecting an important one. The missing link that can bring this all together for us is our faith. Faith is the opposite of Fear. If you have Faith, then Fear can not be in the same room. An example of this would be…entering a dark room unable to see what is in front of you. As soon as you turn on the light the darkness disappears and you are able to see again. That is Faith….Faith is the light that makes things clear again. It is the light that keeps us focused and sure.
" Change your Beliefs…and you will change your Behavior
" Change your Behaviors…and you will change your Results
" Change your Results…and you will change your Life
You cannot continue doing, saying and thinking the same way you have been all your life and expect different results. They say that, that is a mark of insanity.
So we do have to Change, we do have to see Fear for what it is. This can be the beginning of our change process. If it is training that you need….then find a mentor to train you, someone who has achieved that goal. If it is a skill that you need to learn, then invest the time it will take to learn it. If it is your own thinking patterns then find a way to replace the old tapes running through your head with a new one, so that you can move into the Greatness that is waiting for you.
Yes Failure is a stepping stone to the success that we desire and we need the Courage to fight through the feelings and thoughts that run ramped through our minds and emotions. Courage is like a muscle that needs to be worked, it is like the fuel to propel you forward, to make it stronger and easily adaptable.
As you grow in your desire to change, recognizing the feeling and emotions of Every time you take the right action your courage gets stronger and stronger while on the other hand if you don't address the problems face to face then your courage muscle will begin to shrink.
We have the choice set before us, we can Breakthrough or stay the same. I have chosen to not be held back, what is your choice??? "NO" is my Green Light to Go…to go forward with my plans, goals, dreams, desires. "NO" is my opportunity to rise above…to face the challenge head on…to see the obstacles as my opportunities for greatness…to test myself beyond my personal limits. I hope that you will too.
Make it a great one My Friends,
To Your Success
Donna Rios
Article Source: http://www.articlesbase.com/networking-articles/how-to-manage-fear-and-rejection-and-still-be-successful-1474084.html
About the Author
Donna Rios wrote How to Face failure and rejection to be successful to help and equip the Small Business Professional and the MLM Professional in their quest for Greatness. Donna is a Master Trainer and Coach in the MLM on-line community. If you would like to work with Donna and have access to all her training guides and tips visit MLM Leading Secrets today.