Home » Confidence Building, Decision Making, Featured, Goal Setting, Happiness, Headline, Managing Emotions, Motivation, Problem Solving, Success
5 Ways to Stop Your Self Sabotage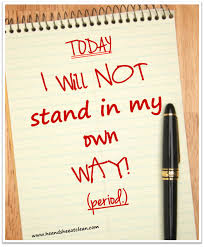 Article #519
Author: Maureen Gharrity
What is Self Sabotage?
To give a short review I'll use a definition from a dictionary. Self sabotage is "Any undermining of your own cause or priority." Any behavior, choice action, decision that you make that gets in the way of achieving or accomplishing what you set out to do is considered to be self sabotage.
Self sabotage often occurs when one lacks the discipline to act in one's own best interest and to sustain it over a period of time. The habits we have established are set and we all know that old habits die hard. So you ruin your chances for success, sometimes even before you get started.
One really needs to be committed to their goals and to change. Sometimes it is about being lazy or unmotivated and often times it is about fear. Fear of change, fear of success, fear of failure, fear of rejection and the list goes on. Fear can take unlimited forms and get in the way of so much of our choices, goals, and dreams. A lot of times you may not even be aware that it is fear that is holding you back. You find yourself saying things like: "I am too busy" or "I can't afford that" or "I am just not good or smart enough." These are all ways of sabotaging yourself due to fear.
Some examples:
You are on a diet or are trying to eat healthier – you eat dessert anyway
You want to exercise more routinely – yet you choose to do other things instead
You want to grow your business by adding more clients – you make no time for marketing
You want to improve your relationships with family – yet you make no effort to reach out to them
This is the year you've told yourself it would be different. You set out to actually do the things you've talked about for a long time.
How do you stop your self sabotage behavior? Here are 5 Ways to Stop Your Self Sabotage:
Become aware of how you stop yourself. Awareness is the beginning of any change and acknowledging that behavior is next. Dr. Phil used to say "You cannot change what you don't acknowledge." This is so true. Pay attention to the choices you make in a given day especially those that keep you from your goals. Taking action will be a whole lot easier once we are aware of where we need to focus our efforts.
Have an accountability partner – Enlist a friend or someone to check in with and even more importantly to follow up with on your progress. Just knowing that you are going to have to answer to someone will make you more likely to follow through. It can also be helpful to work with a coach to keep you on track and to work through any blocks or obstacles that come up along the way.
Set a due date or a deadline. When you have an end date in mind, it propels you into action, especially if you are the type of person who tends to save things for the last minute. Projects for work, school or home can be given a time limit. This will help with perfection paralysis and procrastination too, both of which are delay tactics and big forms of self sabotage. Know when you are most productive and plan the hardest tasks during that time.
Draft a list of daily practices – or another way to look at it is a regular routine. A list of things that need to be done every morning before going to work can be very helpful. This is true for teens as well, especially as they go through high school and have more and more responsibilities. The busier we all are the more likely things are to fall through the cracks or just be forgotten.
Have your work be automatic – that whole idea of work done for you. With the prevalence of the internet, there is so much that can be done online and in advance. Other examples are direct deposit of your paycheck or automatic withdraws to your savings account. It takes away the time issue and just one more thing to get done. Anytime things can be done for you keeps you on track and even a head of the game.
Article Source: http://www.articlesbase.com/self-improvement-articles/5-ways-to-stop-your-self-sabotage-4854186.html
About the Author
If you would like to know more about Maureen Gharrity and her coaching business please visit her website at http://www.Findingyourwaycoach.com. Be sure to download your FREE COPY of my her report: "275 things You Can Do To Create Balance and Connections"