Home » Confidence Building, Featured, Headline, Inspirational, Motivation, Problem Solving, Self Esteem
Being Present and Intentional Leadership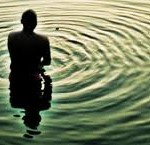 A message from Self Help Guides Online:
I recently received a forwarded email from the Executive Director of a teen leadership organization I work with.  The email originally came from Mike Whitehead of The Center for Intentional Leadership.  As I read it, it occurred to me how related it was to every article published on this site, simply because everything we 'are' is based on 'how' we are in every moment of our lives.
This email is a nice reminder of where everything starts.  It was once said that everything is created from nothing.  Since this is the simple truth of our universe and we are a part of it, that makes all of us co-creators of nothing to something.  Sometimes people forget it's the 'How' that creates the 'What', and it's the 'Who' we are that creates the 'Why' we are.
In reality we can read self-help articles all day long and get no-where if we are not present in the now-here.  Like a droplet of water on a serene pond, it's a good reminder that what we create in each and every one of our lives not only affects us personally, but will sooner or later reach the shores of others– which will have a collective effect on our existence.  Thanks Mike for the encouragement and allowing us to reprint this.
An Intentional Message
Author: Mike Whitehead               

Our work is Intentional Leadership.
Intentional Leadership is not just another program, or new management fad. It is an approach to living and leading one's life and organization. It's a journey of staying awake, being self-aware and purposeful. It is a daily inquiry and a triumph of commitment over the status quo (default). It is about living an amazing, meaningful, intentional life.
A key principle of Intentional Leadership is "being present".   This principle is simple to understand, and oftentimes a challenge to practice day to day or even moment to moment. There seems to be only two places you and I can be, either "here" or "there". Here is now, the present moment in time. Like slowing down to actually read this e-mail, word for word, without rushing through it to finish it. Absorbing and immersing in the person you are with, the conversation you are in, the experience you are having.
There is in your head. And in your head is where all of your thoughts are. And mostly these thoughts are about the past or the future, not the present. In fact, in the real present, when one is simply "here", our thoughts are mostly absent. We simply are being with what we are doing at moment, like just being in the zone.
There. Your head. Your thoughts. Thoughts like, "I can't wait to finish this day of work so I can go home". Or "I cannot believe it is only Monday, I cannot wait until Friday". If only I had (fill in blank) then I would be happy. "I wish I had not done that". (past)
When we are actually present and "here", we listen intently, feel deeply, and experience people as they are, not how we want them to be. When we are "here", we allow others to be who they are. This allows us to lead much more effectively, because we actually hear what is needed from the people we work with and live with. Human error or simple mistakes hinder productivity and increase costs for our organizations. This has more to do with not being present than any other reason. True cost savings and measurable increases in productivity are the natural outcomes of applying this principle.
A practical way of applying this is to simply slow down. Stop rushing. Don't cram your calendar full of back to back appointments without breaks. Take time to look around you. Look at people's faces before launching into your dialogue. Find out how they are doing. Start paying attention to simple things around you. You will be amazed at what you accomplish simply by being "HERE" and not "THERE".
Intentionally,
Mike