Home » Confidence Building, Decision Making, Featured, Goal Setting, Headline, Inspirational, Motivation, Problem Solving
How to Get Anything You Want In Your Life… Right Now!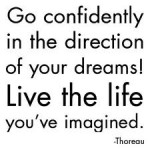 Author: Cheryl Fauvel
Do You believe you can get anything you want in your life?
Seriously you can have your very own magic genie! What do you want in your Life? Is your life how you want it? The answer to that is usually no! Do you realise how easy it is to create your desires and dreams? No? Read on….
So think now, what would you like to change or add to your life? Do you want more money? A new house? Fantastic holidays? To be your ideal weight? Perfect health? Attract your perfect mate or genuine friends? Now if you could create these things in your life how would that make you feel? Your answer is probably, to feel freedom fulfillment and to really experience life, to live it and not be a slave to it!
So how do we achieve this, well its really simple, you just see what you want in its full glory, daydream, picture it all in detail and focus on it as though it is real right now! Believe this and it will be, dismiss negative thoughts, old habits and limiting beliefs, create your miracle! It is within your power therefore your choice, choose to be free!
I think Most of us are aware of the secret? The secret gave us lots of inspiration and hope, but a lot of people thought it was out of their reach or just didn't seem real. I am asking you to accept that this is very real. You don't have to ask any God or Universe to create your desires for you, you create them for yourself by believing you have the right to them, and you do!
You have the right to get anything you want in your life, right now! Whatever you think about will be created, so be warned, don't think negative………ok look if you don't believe you can have your desires, just test this out…… Every time you have a negative thought or doubt in yourself, simply dismiss it, do not give it space, keep reminding yourself to think only good stuff. I know it's hard to start with and we all have bad days, but try to stick with this and it will become habit. Then watch as your life changes for the better. When you see this happening then you will trust and you will be ready to bring all things into your life!
How many times have you got up in the morning, and something not so good happens, and then the rest of the day just gets worse, why? Because you focus on the first bad thing, you are negative and you draw more negativity! How many times do you think of someone and you meet them or they ring you? That person you have a problem with just keeps showing up? Are they stalking you or are you paying to much attention to them?
I have a little trick I like to use, I put an elastic band around my wrist and every time I doubt or have negative thoughts, I ping it! It works! (ouch)
Ok so now you are ready to create that dream. Close your eyes and see it not in the future but as though it is there right now, be very clear about it, see it exactly how you want it, tune into how it feels; this is the secret, to hold that feeling! Don't waste anytime trying to figure out how it is going to materialize, it just will! A path or an idea will appear and you will recognize this is how it is going to happen! Imagine the end result exactly as though it has already happened!
Never focus on what you don't want or you will be creating more of that, whatever you are focused on will appear! Keep seeing only what you do want! If you question the hows, can you see what will happen? You will be creating doubt and confusion, blocking the creation, get it ?
Quantum Physicists have been proving this science for decades, we have to simply "let go" and let the path ways open, there is no room for doubt and limitation! You must also let go of the desperate want and need, just see the picture and love those feelings!
Feelings are your acceptance, this is where most of us failed with the secret, those feelings are key. So imagine as real as you can that dream house, see yourself in it. How does it look? What is the décor like? How are you feeling? The holiday– how does the sun feel on your skin? The weight loss– how does it feel to get into that skinny gorgeous outfit?
Keep your eye open for clues, the steps will be shown to you; maybe a coincidence, you find yourself at a place that fits with what you are focusing on. Don't miss these stepping stones to your dreams, act on them!
Article Source: http://www.articlesbase.com/self-help-articles/how-to-get-anything-you-want-in-your-life-right-now-3957908.html
About the Author
Like anything you want to learn or understand, it is easy when you know how! To me simple is best, basic understanding, philosophy and practice works! Learn how to Achieve what you want for the rest of your life!
Have questions? Come and chat with me – ask all you like 🙂
http://mindandbodyinhealth.com
Wishing you all the success you deserve and desire!
Cher Fauvèl