Home » Confidence Building, Decision Making, Featured, Goal Setting, Headline, Inspirational, Motivation, Problem Solving, Self Esteem
Perseverance – Tough Times Never Last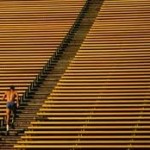 Author: Stephen Campbell
"Tough times never last – but tough people do"
Robert Schuller said it all. Greek for Perseverance literally means "the ability to handle pressure". There are innumerable circumstances in our daily lives, social lives and in our careers when we have to handle the pressure and overcome it to achieve our goals. Difficult situations arise everyday. Every time you handle a difficult situation and yet achieve your goal, you are ready to take on bigger challenges and even threats. This is how one can develop perseverance.
A positive attitude is the will get the job done. Having the tenacity to go ahead is a positive attitude. A positive attitude helps to develop perseverance. It's what separates the successful from the chaff. We are all ordinary mortals, what makes us extraordinary is the will to achieve. Some people are tenacious, while others are just plain ordinary. Still others will constantly alter between the two.
The question is how does one develop perseverance? To develop perseverance one must follow at least some discipline in life and have some rules which should be adhered to. To begin with, finish what you have started. Many discoveries and inventions were the result of experiments that were finished. Go all the way when you have started something. There are many challenges along the way, which one has to encounter in order to be successful. Perseverance is an attitude and frame of mind; it takes time to change the attitude. This means to develop perseverance, takes a little amount of time and a lot of will power.
Be positive (not just a blood group) about the things that you do and want to be done. There are umpteen ways of getting the same result. Successful people have been positive and have the determination to survive and achieve their goals under adverse situations too. To develop perseverance may take a long time, but when it's there, you are motivated to perform your best.
Develop perseverance to look for new openings, explore the road less traveled. You will get answers to the nagging doubt. Above all believe in yourself. Give yourself a mental pat every time for the job well done. Have confidence in yourself. People with low self confidence are never successful. Before people can believe in you, you have to believe in yourself. You have to believe in the product or the service that you can deliver. When you are convinced, then others around you can also be convinced.
When you develop perseverance, failures will not seem like a great burden. Failures are temporary and should be treated as a stepping stone to success. They teach you lessons about 'what not to do'. Each failure gives you more reason to develop perseverance. Develop perseverance and your past will look less important. Look to the future when you are making a new beginning. Don't let the past overshadow your present and future.
Another key tool to develop perseverance is to lend a hand to others. Sometimes immerse yourself in other activities or help others with their goals. Helping others and doing other activities lightens the burden of failure and develops perseverance in self. You come back refreshed and with another positive perspective. The new perspective can help you develop perseverance and change the way you have been looking at things. Maybe you can find a new solution to the problem that you are looking for.
Change is inevitable. Adapting to various situations also helps to develop perseverance. To succeed, you need to thinks about new ways of getting to your goal. This means that you need to change and adapt at each step. Adapting at every step is important. Adapting and innovating to face the challenges is another quality that is connected with perseverance. This builds strong character.
The will to do something or 'determination' is very important. Often this lesson is well learnt at home. Preaching about 'determination' alone is not enough. Parents need to show 'determination' at work to their children. Determination helps to develop perseverance in children from an early age.
Children learn more by observing rather than mere discourses. Both parents need to show children determination, patience, understanding and perseverance in handling situations. Children should be given tasks that they can handle independently. By handling tasks independently children become responsible and goal oriented. They learn to develop perseverance and the way to the ability to reach their goals. It also teaches children to adhere to their commitments, whether its sports, music or other activities that they are interested in.
Perseverance is the quality that every person has but only few choose to use it in face of hurdles, oppression and opposition. Some individuals develop perseverance and use this weapon and cross over the problems to attain the goal that they had set out to achieve. Remember that successful people had to work really hard before they became successful. They worked in obscurity till the day they attained recognition for their perseverance and attained their objective.
Genius is one percent inspiration and 99% perspiration – Thomas A. Edison
There are numerable hurdles along the way that can stop children and even us from reaching or attaining our goal. Sometimes perseverance may not seem enough. That's when the family steps with unconditional love. Understanding, unconditional love and Perseverance can make people cross hurdles and stick to their commitments and attain the goal that they are looking for.
Article Source: http://stephencampbell.articlesbase.com/self-help-articles/perseverance-tough-times-never-last-197925.html
About the Author
Stephen C Campbell (Master NLP Practitioner) has published more information on using Perseverance as a Goal Setting tool at
http://www.perseverancehowtodevelopit.com