Home » Communication, Featured, Headline, Relationships
Answer to Relationship Difficulties – Effective Communication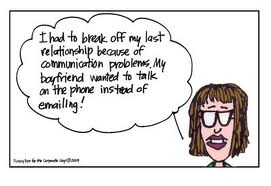 Article #583
Author: Cody Holpp
Life and difficulties go hand in hand. Monetary difficulties are common and so is the case of complications in relationships. Most often than not, complications in relationships destroy your domestic life; tensions in your domestic life are one of the worst form of self-pain.
They say life is not a bed of roses, even on a bed of roses. The basic issue here is that circumstances are always more powerful than human beings. Even in normal situations, people are not able to anticipate things in future sense, leave alone scenarios when people are madly in love. Relationship based difficulties are responsible for many other mild to complex issues. If the foundation is weak, the building will always run a risk of a collapse.
Why do Difficulties Occur in Relationships?
If a poll is conducted about this question, the obvious gold medal winner would be – misunderstandings with runners up as: marriage and the bronze medalist might be – lack of time management, circumstances or lack of chemistry. Actually, it is a combination of things, but the major culprit is the change that occurs over the course of time. Many believe that love is phase where you ignore the black lines (negative traits) of your partner.
Actually, the transition of love into marriage brings about a lot of changes. On a comic note, lovers (heroes) tend to becomes actors. Bad relationships do not occur instantly; these are cumulative in nature and deteriorate with time. Blame game and selfishness (occurs after a fallout, mostly) lead to fights, which end up causing rifts in relationships.
How to Avoid Relationship Difficulties?
Irrespective of a happy relation or a not so happy relationship, communication is very important. Communication helps in relationships which are sailing on happy boats wherein the ride will get smoother and smoother. In terms of bad relationships, if there isn't any communication, then assumptions are as nasty as a punctured tyre on a one way street – absolutely lethal.
Some steps to avoid difficulties in relationships are mentioned as follows:
Prior to fights, make sure you put yourself in your partner's shoes and check the reactions. Often, things are so small, that only immature people can make a mountain of this small mole (fight).
Proper, timely and effective communication is important. Communication refers to discussions, not debates.
Blame game doesn't work. Quarrels are bound to occur, so people in a relationship should make a small rule: never bring back any instances of earlier fights.
It is also advised that both the parties shun away from dragging parents, sisters, friends etc. Misunderstandings often lead to debates and then egos are bound to hurt.
Make sure the origin of your fight is not what you heard from someone's someone.
Always remember that most of the times, it is not the issue, but the reactions which rub each other's ego that cause rifts.
Lastly, make sure you use your words carefully. Words have created history, and have also been reasons for wars.
Article Source: http://www.articlesbase.com/marriage-articles/answer-to-relationship-difficulties-effective-communication-4978192.html
About the Author
Is your relationship going through rough patch? Tune in for some wonder working relationship advice from out experts and find solution to put an end to all your marriage problems.