Home » Decision Making, Featured, Headline, Problem Solving
Is Your Relationship Worth It?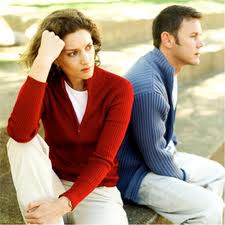 Sometimes when a relationship has taken a wrong turn, our efforts are used trying to repair it, or "get it back", while the best thing to do might be to step back, take a break and look at things with a different perspective. Is the relationship worth fighting for or is it truly a lost cause? Here are a few things you can think about while trying to sort things out.
Is your partner still in love or still interested in pursuing the relationship? Sometimes when we lose a love we tend to dwell on what used to be, not on what the relationship is now about. It was good in the beginning, otherwise you wouldn't have ended up together. Sometimes that stage of the relationship is not always an accurate measure. Its best to look at what is at this time happening and reevaluate how or why the situation is the way it is at this moment.
Sometimes we fall head over heels, then if things go bad, the memories of good times stand out over what is really happening presently. If both of you are willing to work on the problems in the relationship, there is a good chance you will stay together. But the thing is, BOTH of you have to feel the relationship is worth it, that each of you feel each other is worth being with. If not, you need to ask yourself, "Am I in love with the memory of the way things used to be, or am I truly happy with this person, and just frustrated with not being able to work things out"?
If you are not happy at this moment, you need to ask yourself if there is a possibility (as small as it may seem and as exhausted as you may be trying to work things out) that both of you are mature enough to work things out? And, in the big picture down the road do you want to stay with this person for the rest of your life, or can you both agree it's not a long term situation? Can you, do you want to really commit until, "Death do you part"? Sometimes (especially in this throw away, quick gratification world) we don't think things through. If this is the case, the result can be a lot of hurt feelings because one person thought it was forever and the other stayed together because the relationship felt good and was a good idea for the time being.
Nonetheless the hurt will go away if you do breakup permanently. There may be a lot of pain and resentment now, but if you are willing to move forward, it will pass. Do you really want to be with someone who doesn't want to be with you? You will find love again. You deserve to be with someone who truly understands YOU and loves you for how and who you are.
Imagine what a mutually loving relationship with someone should feel like. In part, 'mutually loving' means both of you don't see running away as an option every time a misunderstanding pops up. 'Mutually' means equally loving each other for the sake of the relationship, the connection and friendship you are willing to build on to last. Is it what you have now? Does it seem like it can move in a positive direction? Does the relationship have potential?
Remember, 'maturity' in part means understanding. If both of you want to understand how you can work to make things better, this is a huge plus. 'Understanding' can be a hard thing to find. The reason why long term relationships endure is because each person can see that the other person is worth it and finds ways, learns new ways to understand that being together can make great things happen and great adventures and experiences can be had. If not, maybe your current partner isn't capable of having that with you for whatever reason—maybe they can't understand, don't want to understand, or are afraid to understand. Is it worth it to you to stay and work it out versus starting over again to find your idea of 'true love'? Remember too, understanding is a two-way street and good communication is about bringing your ideas together.
Staying in a relationship for reasons other than love isn't good for anyone. Some people, stay in a relationship for the wrong reasons, such as having a roof over their heads, their bills are paid, they are afraid of being alone or a variety of other reasons. If this is you, you must realize you are a capable individual. This can become a co-dependent relationship. If you really want to lead a fulfilling life, take the steps to become self-sufficient and independent. When you respect yourself, you can be confident enough to be okay with being alone and patient enough to wait for the right person for you to come along. Then, go out there and look for someone who appreciates you, that needs you because they love you for just the way you are. They don't want to change you because they learn wonderful new things to help themselves and you are with them for the same reasons.
Are you assuming what your partner is or is not feeling? Have you communicated with your partner or have they communicated with you—clearly? Sometimes we tell ourselves things that are not true. Sometimes our insecurities confuse our emotions and hijack our understanding. We don't think straight. You may believe that because someone is angry or frustrated it is only because of you, and they don't want to pursue the relationship any longer.
On the opposite end of the spectrum, you may believe someone is sending you signals that they do want to be with you or that certain gestures have hidden meaning. Sometimes what we believe is not the reality of the situation. We make a situation or search for a situation that fits our belief system. Open communication is the only way to resolve issues and is a needed part of a loving relationship. The main thing is, you need to really feel and trust that the other person has sincere love for you. If this is the case, you may want to work on staying together because this relationship is worth it.
Are you willing to stay until your partner breaks things off? Some people are so afraid of losing someone they will stay as long as possible in a hurtful or abusive relationship no matter what the situation. They will wait until the other person breaks it off because they aren't strong enough to do it themselves and/ or are afraid of being alone.
Consider what has been said above. This might give you a pretty good idea where your relationship is and where it's headed. Be strong for yourself. Life does not end because a relationship does. If you are not happy and you are pretty sure things are not going to work out, it's time to move on.
Remember, you deserve to be happy. You choose how you are happy in this one life you live. Sometimes love can make us feel uncomfortable to the point of immobilizing us to do the right thing. Maybe the person you are struggling with is the very person you need in your life.