Home » Decision Making, Featured, Getting Organized, Goal Setting, Headline, Motivation, Problem Solving
Time Management For Students – 8 Tips To Control Your Time Better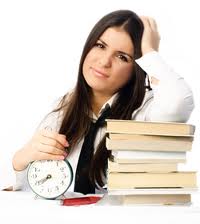 Author: Abhishek Agarwal
In the case of students, managing time is a very crucial aspect of this phase in their lives. This would give them proper ideas and steps on how to utilize their time properly. Apart from this, effective management of time can also help in estimating the amount of time it would take to perform an activity. This could help in preparing for the later stages of their lives when schedules become more hectic.
By large, a student must have a very precise evaluation of his time. On doing this, the individual will be able to keep an eye on his activities. Enough time for preparation for all his activities is very crucial indeed.
Not having sufficient time to get things done in the day has become a major problem of students. Apart from this, many students are being late for their classes.
Following are a few tips for students to take control of time and also to organize things.
1. It is very necessary for an individual to prepare a "to do" list every single day. Putting goals, responsibilities and tasks in written format is really important. The activities should be ranked from those of highest priority to the lowest priority. Hence, the activity that needs to be performed properly is given top priority.
2. Spare time of the individual should be used wisely. Every second is vital. A minute once lost, is lost forever. A single minute should never be wasted by doing unproductive activities. For example, some reading can be done while one is traveling on the bus. One can also try to revise notes while he is on a recess or a break. Free time should always be used.  For example, if a project is not due yet one can utilize the free time and complete it well in advance.
3. Do not fear to say the word no. Saying no sometimes is very important. For example, if a friend asks you to watch a program on a school night. This could be one's study time. The program could get extended to the early hours of the morning, one will feel sleepy and unfit for the next working day. Making right decisions is very important. Keeping the priorities is crucial. Things should be done at the right place and at the right time.
4. One must find apt timings for both studies and work. Students will be able to perform well in their studies excellently if the allotment of work time is well planned. For instance, if one loves to do science early in the morning rather than the afternoon, he should do it then.
5. Taking a good sleep at night is very important. This deficiency may make the day seem longer than it is. Taking short rest periods could also lead to extra and unnecessary stress making tasks more difficult. On the other hand, with sufficient sleep one can carry out the day to day activities with a fresh mind and also at a fast rate.
6. One should be a good "task master ". Figuring out the amount of free time a week has is very important. Good planning and management can help in settling activities that tend to consume a lot of time.
7. One should not waste time by worrying about things that did not work out well. Peace of mind and relaxation is necessary. Time spent in worrying can result in nothing getting done. Instead of this, finding a solution is wiser. Procrastination is the thief of time.
8. Outlook maintenance in a positive perspective is needed. The goal must be sensible. Having unrealistic view of goals is going to lead to failures.
The above tips could help one organize his schedule. This could lead to stress free work and less worries.
Article Source: http://www.articlesbase.com/time-management-articles/time-management-for-students-8-tips-to-control-your-time-better-775356.html
About the Author
Abhishek is a Time-Management expert and he has got some great Time Management Secrets up his sleeve! Download his FREE 62 Pages Ebook, "How To Become A Highly Effective Time Manager!" from his website http://www.Positive-You.com/58/index.htm. Only limited Free Copies available.