Home » Confidence Building, Featured, Happiness, Headline, Inspirational, News
Astronaut, Chris Hadfield : What I Learned from Going Blind in Space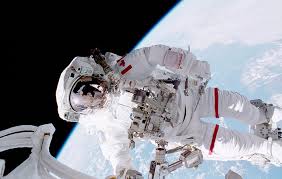 Post #679
Friday Video: TED Talk – What's the scariest thing you've ever done? There's an astronaut saying: In space, "there is no problem so bad that you can't make it worse." So how do you deal with the complexity, the sheer pressure, of dealing with dangerous and scary situations? Retired colonel Chris Hadfield paints a vivid portrait of how to be prepared for the worst in space (and life) — and it starts with walking into a spider's web. Watch for a special space-y performance.
Why you should listen
"Good morning, Earth." That is how Colonel Chris Hadfield, writing on Twitter, woke up the world every day while living aboard the International Space Station. In his five months on the ISS (including three as commander) Hadfield became a worldwide sensation, using social media to make outer space accessible and infusing a sense of wonder into the collective consciousness. Check out his cover version of David Bowie's "Space Oddity," sung while floating in his tin can, far above the world …
Now back on our home planet, he continues to share the excitement of science and space travel. He's the author of the new book An Astronaut's Guide to Life on Earth. As he says, "There are no wishy-washy astronauts. You don't get up there by being uncaring and blasé. And whatever gave you the sense of tenacity and purpose to get that far in life is absolutely reaffirmed and deepened by the experience itself."
Hadfield is also a font of Canadian firsts: He was Canada's first shuttle mission specialist, and the first Canadian to board a Russian spacecraft (he helped build the Mir), do a spacewalk (he's done two), and of course, to command the International Space Station.
What others say
"He is a fighter pilot, a test pilot and an aeronautical engineer capable of docking a rocket ship. But that's not why the world loves him. Of the hundreds of astronauts who have gone into space, none has humanised it quite the way Hadfield has. " —
Guardian

[ted id=1951]