Home » Featured, Happiness, Headline, Relationships, Women
How to Tell If You Should Break Up with Him?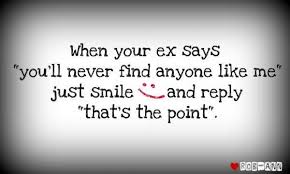 Article #900
Author: Linda Miller
Just the plain thought about break up is painful. But sometimes, you know deep inside it's the right move. Probably, because your relationship with your man isn't working well. You might have very different life objectives, or contradicting opionions and you never seem to get along well.
But the real question is, "When do you know it's time to break up?" Well, it's never easy to tell, mostly because you still have feelings for the other person. After all, not everything in your relationship was exactly bad.
Anyway, once you read everything until the end you'll know exactly what you must do.
1) Your Sex Life Is Monotonous
Your sex life is far from what it used to be. When he only had eyes for you and would nearly break your bed apart with so much love. Now, everything seems monotonous. You probably even tried to push him but he usually avoids you.
I'm not saying you should immediately end your relationship over this. You should first talk to him and tell him how you feel. Many times, a little conversation might bring back the missing spark into your sex life.
If he doesn't seem to care then it's probably time to move on… things certainly won't improve!
2) You Caught Him Cheating
You should never forgive a man who cheats on you. He might promise he won't do it again. But more times than another, he will. As they say, once a cheater always a cheater. Some people change when they genuinely regret it, but most don't.
Also when you accept someone cheating on you, you're pretty much cheating on your self-esteem. You're telling yourself, you don't deserve any better.
3) He Physically or Emotionally Abuses You
It's despicable a man who beats on women, or emotionally puts them down. You should never tolerate such behaviour. A man who does that is nothing more than a coward and he won't ever change.
You should immediately break up with a man, who does that to you. I know sometimes this is a very complicated situation. You might need the support of your family, friends if he's an agressive person. Also, there are several online communities, or probably support groups in your area, which might help you better.
I don't want to go much in detail over here because I know this is a very complicated thing. Just know you deserve a caring man, who loves you. A man who physically or emotionally abuses a woman, certainly doesn't.
4) You Don't Find Him Attractive
When you first started dating you thought he was the most attractive man ever. After a while, you lost that feeling. Probably, because he gained weight and likes to pass great part of his day watching TV.
Or, he's insecure and you don't find that attractive in a man. Whatever is the reason, many times this happens. You shouldn't feel bad about it. If you aren't attractive to someone then you shouldn't be with him.
Actually, breaking up in this situation is a favor you're doing to yourself and to the other person. This way you can both move on and find people who are more suitable for you.
5) The Exciment Is Gone
When you both are together everything seems boring. You no longer smile, laugh, look each other in the eyes.
Once more, you should first talk to your partner before you decide to break up. Sometimes people get caught in life's routine and don't even notice. I'm talking about work, home and next day the same thing.
Probably, if you speak with him you can both plan a few things to bring back the excitement. If he acts disinterested then it's probably time to show him the red flag.
6) You Fight A Lot
Okay, every single couple fights, it's normal! But if each time you're together, you're constantly fighting over the smallest thing and nearly pulling each other's hair. Probably, there's something very wrong with your relationship.
Many times, this has a lot to do with frustration. You're tired of each other and fight over anything. Another sign that you should probably break up.
Last Thoughts…
Are you seeing any of these signs in your relatioship? Yes, then it's probably time to move on. I always recommend for you to first talk to him and see if things can get resolved. Sure, this depends on the situation.
If he's clearly cheating on you, physically or emotionally cheating then you should immediately break up.
If you have any question or opinion you would like to share then please leave in the comment section below. Thanks for reading.
Article Source: http://www.articlesbase.com/breakup-articles/how-to-tell-if-you-should-break-up-with-him-7220372.html
About the Author
Hello, I am Linda Miller founder of Naughty Language of Desire. A website where you can find tips to help improve your relationships with your man, or dating life. Check our website to discover more secrets… click here.