Home » Behavior, Confidence Building, Featured, Happiness, Headline, Identity, Inspirational, Managing Emotions, Men, Relationships
4 Steps to Overcome Insecurity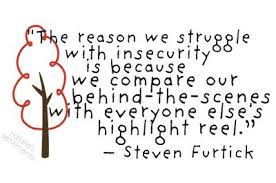 Article #719
Author: Attraction Institute
4 Steps to Handle Insecurity
Everyone has got something in common- we all have insecurities.
All those people you pass in the street day to day- all of them are going to be insecure about something.
It might be her smile. It might be his skin. It might be his hair. It might be her weight.
But just because we all have insecurities, it doesn't mean they have to rule your life.
Here's 4 steps to take control and live life the way you want to, regardless of your insecurities.
1. Admit that you have them!
If you can't admit to yourself that you have insecurities, then you're never going to be able to actually start working on them. You can't solve a problem if you're pretending it doesn't exist.
To start coming to terms with your insecurities, write a list of all the things that you're insecure about.
Take 5 minutes, right now to write that list.
2. Admit to others that you have insecurities.
Yes, I mean it. This has to be the next step. Once you admit to yourself that you have insecurities, being able to admit them to others is going to give you the space to start dealing with them.
Although it can be scary and confronting, this is the fastest and easiest way to overcome your insecurities. Why?
Because the real problem you're dealing with isn't what you're insecure about- it's not your weight, your height, your hobbies, your looks or anything else. The real problem that your insecurities limit your life is because you're worried about what other people think of them.
You're worried about being judged.
That leads you to hold back your thoughts and opinions. It stops you living life the way you really want to. It causes you to hide who you truly are.
Now you could continue hiding your insecurities and hoping that people don't find out and spend your life hiding and being afraid of having people get to know you, hoping one day you will magically become confident and perfect, OR you can begin dealing with the reality of your situation.
Telling people about your insecurities helps you to accept yourself, and it helps you to find ways to take action and eliminate the insecurity you're facing. Until you start talking to people- whether it's a friend, a doctor, a fitness instructor, a family member, or whoever you choose- then you will be perpetuating your insecurity by hiding it from others.
There's no need to open up and confess your deepest insecurities to everyone, start with people you trust and begin from there.
3. Get rid of those people in your life who take advantage of your insecurities.
Not everyone you meet and open up to is going to be as supportive and helpful as others in your life. There are always going to be arseholes in the world. There will always be people who try to make themselves feel better by belittling others.
Those people who try to take advantage of your insecurities are actually doing you a BIG favour.
They're showing you their true colours so that you don't have to worry about what they're thinking anymore. They're showing you that they're not the kind of person you want in your life and you can get rid of them without a second thought.
"But what if no-one accepts me?"
Then you've been wasting your time with the wrong kind of people for too long and now it's time you did something about it.
4. Prove that you can be happy and fulfilled despite your insecurities.
Once you've begun to deal with your baggage from the past, by accepting it and beginning to talk to people about it, it's time to move forward!
The reason you've been insecure about whatever it is that's troubling you is that at some point in the past you thought it was necessary to be free of this situation in order to be happy in your life.
To really eliminate your insecurities for good, you need to show yourself that you can live a full, happy life despite your insecurities.
Logically you might already know that being overweight (for instance) doesn't stop you being happy, but there's some part of your subconscious that hasn't quite got the picture.
The way to address this is to take action. You need to become happy and fulfilled while your insecurity still exists.
That's right- you need to become happy and fulfilled without getting rid of your insecurities first.
Once you can do that, you will stop worrying about your weight or your receding hairline or whatever because you'll realise that you're happy despite those things.
Interestingly, Step 2 of this process can actually go a long way to fulfilling Step 4.
One of the big reasons many people are insecure is that they worry that they'll be rejected if people find out what they're really like.
To break that down even more, many people feel lonely and deeply want to find a connection with other people, but the way they try to build that connection is by putting up barriers, hiding who they are deep down, pretending they don't have insecurities and acting like they're really cool and confident.
If you've read this article about connectiing you'll know that's a very poor way of experiencing connection.
The best, most fulfilling, most rewarding connections are ones that are based on openness, honesty, sharing and finding other people who have had similar experiences to you.
That's what Steps 2 & 3 are about- finding other people with similar experiences and insecurities and getting rid of those who are only holding you back.
This way, you're actually developing strong, deep connections THROUGH your insecurities rather than trying to connect with people by hiding who you are.
If you'd like to know more about how to change the way you accept yourself, the way you relate to others and the way you can live a free, happy, fulfilled and rewarding life check out the links in my bio.
Article Source: http://www.articlesbase.com/self-help-articles/4-steps-to-overcome-insecurity-6037909.html
About the Author
Bio
The Attraction Institute teaches Men how to eliminate their insecurities and destroy the roadblocks that are stopping them from finding the strength and confidence that women find irresistible.
We're dedicated to helping you transform your inner game to improve your confidence, get out of your head, stop worrying about what other people are thinking and experience more of what life has to offer.
http://www.attractioninstitute.org