Home » Exercise & Fitness, Featured, Headline, Health, Motivation
Boost Energy with 3 Great Workouts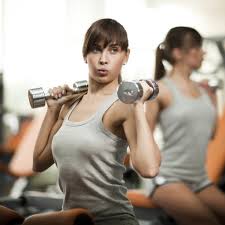 Article #714
Author: Amy Whinehouse
There is an unlimited amount of energy you can tap into, if you know how. It can be tough to realize if you aren't getting in the gym or doing the right workouts. The first step in boosting your energy is making a decision. The first muscle you must exercise to yield any results at all is your mind. One must realize that most times when they feel tired, it's not their body, but their mind that is worn down.
The things that you keep up in your noggin do a number on you. When your mind if clouded you may feel like you just want to sleep. There is one work out that will take you out of your mind. Running fast.
Blazin Cardio
Run, and run fast. This is the number one way to get more energy and relieve stress. In the past when society worked more physical jobs and walked most places we got cardio workouts naturally. Unfortunately, in the 21st century we are robbed of these natural cardio opportunities. These days we find ourselves saying stuff like 'make time to go to the gym' or 'make a workout plan'. Society has changed quite a bit, but that doesn't mean we can't get some good cardio workouts going.
The best time to do cardio is the first thing in the morning and in the evening, if your schedule permits it. Try to wake up before 6 AM, drink a half glass of water, and do at least a mile of running or walking. If you haven't done cardio in a while then start walking every morning and wear a wellness bracelet. After you are comfortable walking, try running half way or the whole way if you feel ready. Right away you'll notice that you have more energy. The long term benefits are more endurance throughout physical activity and relief of anxiety.
Do Squats
Squats are a pretty much a full body work out. For this reason they can give you loads of energy if you are doing them consistently. Doing squats, which is one of the best leg work outs, can also boost your testosterone. Heavy workouts, in general, will help you build testosterone and gain more energy if you are a man. If you are a woman, squats can help you become more flexible and make your legs stronger. Do squats in combination with your evening cardio for best results.
Combining squats and cardio will put you in powerhouse heaven. You will feel more invigorated during the day during work or other activities.
Build Your Abdominal Up
When most people think of abs they think of terms like 'six pack' or 'washboard'. Beyond all the hype-terms it is important to recognize the health benefits of a healthy abdominal muscle. It can lead to a stronger back, which will in turn make your posture and balance better. Working your abs on a regular basis can also help with anxiety. The bottom line is, any ab work outs will help you become more energetic and healthy as long as your doing them consistently. Here are a few great ab workouts:
The Bicycle
Exercise Ball Crunches
Normal Crunches
Vertical Leg Crunch
Ab Roller
In addition to doing these exercises, gaining energy can be gained by eating less. Making your meals smaller will give you more energy and boost your metabolism. The simple fact is most people eat way too much and wonder why they don't feel well.
Learn more about exercise for energy at http://www.webmd.com/fitness-exercise/features/exercise-for-energy-workouts-that-work
Article Source: http://www.articlesbase.com/wellness-articles/boost-energy-with-3-great-workouts-3926126.html
About the Author