Home » Confidence Building, Decision Making, Featured, Goal Setting, Happiness, Headline, Life, Problem Solving, Success
How to Find Your Purpose with One Simple Step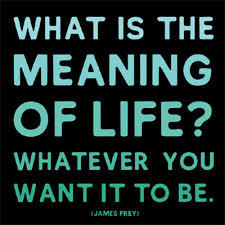 Article #534
Author: Stacey Curnow
The most recent holiday season presented many opportunities for me to connect with people at parties and it should be no surprise that discussions gravitated toward goals for 2013 and whether or not they felt on track and on purpose.
I was sad that many different women I talked with said they were without any awareness of inspiration or aspiration for their lives. I was reminded of a function I went to with Byron Katie a couple of years earlier.
One of the numerous people who joined her on the stage was a young woman who was plainly distraught. (Katie has a method she calls "the Work" that helps most individuals free their stressful thoughts. . If you'd like to read more about my understanding of it, click here: http://www.staceycurnow.com/2009/12/finding-peace/.) She asked this young woman what was plaguing her. Sobbing, the woman said, "I don't know what my purpose is."
Katie led her through the Work, and urged her to see that she no longer needed to seek "purpose with a capital P." She told the young woman that her anxiety was because she was dishonest with herself. She was in anguish because she was telling herself she needed to be doing something other than what she was doing. And that wasn't the case.
By the end of her time with Katie, the woman seemed relieved. I talked with her after the event and she said she undoubtedly felt better and she understood Katie's point that if she could stop thinking she was supposed to be doing something really extraordinary, she would be happy. But she was still a little dubious. She said it still didn't feel like enough.
I knew what she meant. When I was 20 I had no clue who I wanted to be when I grew up, and the ignorance was not bliss – it was distressing. My father was a physician and my older brother was in medical school and I detected a lot of pressure to pursue an "important" career, something that would give my life a powerful sense of meaning.
A while back I took the Enneagram questionnaire. I determined I'm a "7," which is an "enthusiast," someone who thrives on new and exhilarating experiences. This means that a lot of dissimilar paths look attractive to me, and of course that was my challenge at 20. I didn't know how to decide which path to choose, and so I didn't. I graduated from college, took the path of least resistance, and ultimately became a nanny.
I'll never forget hearing my dad tell one of his friends that he couldn't understand that, after expending tens of thousands of dollars on his daughter's education, she was changing diapers. I felt upset by his comment, but it wasn't like I could protest – I couldn't believe he'd made such a huge investment with so little visible return either.
So I set the intention of "finding my purpose." I decided that by the end of the year I would know which direction to choose, and that I would look for indicators like a detective… talking to people who seemed satisfied in their work and tuning in closely for my own voice to express itself, for my internal guidance system to point me in the right direction.
I was raring to go. And so I was delighted to discover a pivotal clue in a free weekly paper. One day I was looking for activities for my young charge in a local parenting magazine, and I saw an ad for a women's health center staffed by midwives. I couldn't take my eyes off of it.
I didn't even know that midwives existed in a career capacity – I thought they were the stuff of folklore – and I was intrigued. And that's the instant I would say I felt my internal guidance system kick in – it seemed to be guiding me right to this clinic. I was overdue for a yearly checkup, so I made an appointment and ended up talking for more than an hour with the midwife who did my exam.
I left there knowing that I wanted to be a midwife and that I would do whatever it took to become one. Good thing, too, because it took 7 years. That was almost 20 years ago and I still love the profession as much as I envisioned and hoped I would the day I left that clinic.
I could never have dreamed how my life opened up to me after I made my decision to become a midwife, and I am 100% certain that it would have opened as fully to me if I had pursued any other avenue – because it's undoubtedly held true for any other dream or goal I've committed to.
So I would say to anyone who doubts their purpose: you could take a page from Byron Katie's map and see that your purpose is to take the path in front of you, and simply steer clear of the side paths that are marked with doubt or fear.
Or take a page from my map and be a detective looking for indicators to your purpose. Simply pay attention over the next couple of days or weeks or months. After all, the ideal way to find something is to look for it. But here's the key: set a date by which you will decide what your purpose is and then fully commit to it.
Or finally, you could take a page from Mother Theresa. She said, "In this life we cannot do great things. We can only do small things with great love."
And that is enough.
Please share if you've found your purpose or if you'll follow the steps to find it above. I'd love to hear from you!
Article Source: http://www.articlesbase.com/coaching-articles/how-to-find-your-purpose-with-one-simple-step-6729450.html
About the Author
Stacey is a purpose and success coach who helps you give birth to your BIG dreams. To find your purpose and passion, check out her FREE eBook, The Purpose and Passion Guidebook. Link: www.staceycurnow.com/purposeandpassion