Home » Featured, Happiness, Headline, Managing Emotions, Relationships
Do Not Blame Your Ex…You Both Caused That Breakup So Fix It Together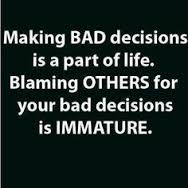 Article #791
Many relationships breakup because the lovers blame the other for their own mistakes.  Relationships are easily repaired if each is able to recognize and correct their own deficiencies in the relationship.  Correct yourself first before you attempt to "fix" your lover and your love life will again blossom!
When a relationship goes sour and the couple decides to breakup it sometimes is almost as exciting as when they first got together. Usually he goes out with his "buds" and whines all night long about how she did or did not do something that caused the problem. Or she spends the evenings with a couple of girlfriends griping about his bad habits and all the terrible things she had to put up with. Blame is bantered about by both of them and rarely does it land on the one truly at fault. Each is responsible for their actions in the relationship and these actions caused the breakup.
When the relationship was new there was probably no end to the compliments, gifts and kissy-kissy. As the couple acclimated to each other and allowed some of their truer nature to come out is when the problems started. This should have been the time to bolster the relationship. However blame was probably placed instantly and neither was able to own their mistakes and work to correct them.
So now they live apart and both probably would love to get back together. That will never happen as long as each blames the other and problems still do not get settled. What a great time this would be to discover individual boo-boo's and correct them. Maybe if this couple could see this short list they would recognize themselves, start on a self improvement program and possibly breathe new life into the relationship.
• Possessiveness. Are you the one that always wanted to know exactly where your love was and what time they would be home? This is probably not a positive personality trait. Your lover is not your slave, not your personal belonging and definitely should not be treated as such. Love should have a built in trust switch and that switch should not be turned off for personal gain.
• Jealousy. This wonderful emotion is not exactly the one you want to use in building the foundation for your relationship. Also it fits hand in hand with possessiveness. There is not a leash attached to either one. There is still work to go do, relatives to visit and shopping trips to replenish the food supply. If the green monster is recognizable in your emotional armory it probably should be banished immediately.
• Lovability. Strange word that means either of the couple should be approachable by the other for hugs and kisses. However this ability to love does not always mean jumping into bed. Love is when you can empathize over a love movie and dry her tears. Or maybe love is drying your guy's back, where he can't quite reach
, when he gets out of the shower. The object is to have an interest in your lover and demonstrate that interest whenever possible.
• Interest and Interesting. Of course the "interest" part of that statement indicates one lover always shows they really and truly have a desire to share in the life of the other. And of course "interesting" means that if you become boring and the desire to share interests wanes then so does the love life.
If any of these traits are personally recognizable then time to change is now. When individual faults are recognized and attempts to correct them are made the road to a relationship recovery is paved. Got breakup? Then act on self renewal and you will probably have a chance of saving your love life.
Source: Free Articles from ArticlesFactory.com
ABOUT THE AUTHOR
Once you have your faults fairly well under control then you can start rebuilding your love. When you run into trouble deciding how to handle this you might check out
Renew Your Love
or
Make Up Magic.
There are not many things in this life that are grander than a full blossoming love relationship. Work hard to know each other and you will be able to build a solid foundation to love on. Thanks for reading this.
Gordon Chandler