Home » Confidence Building, Featured, Headline, Self Esteem
How to Feel Attractive No Matter What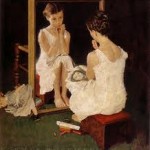 Author: Bellaisa Filippis
It's easy to get caught in a whirlwind of feeling unattractive – to the point of insanity. We think we are too fat, too ugly, too annoying, too whiny, and too undesirable to everyone including the opposite sex.
Here are some tips to help you feel more attractive and be less self critical.
Let go of the past – Let go of anything negative anyone has ever said to you about your appearance or your attractiveness. We have a way of remembering all of the hurtful things that have been said to us and keeping it in our bag of "I am this…" or "I look like this…" just because someone has said so in the past.
They could have been jealous of you, they could have not liked you, they could have said it out of anger, but whatever the reason was it doesn't mean that you really are what they painted you to be.
Start doing healthy things – Whether you start working out more, eating better, or just work on being more positive you will start heading down a path to self love.
All of these things make you feel better about who you are which lifts the self criticism and replaces it with self acceptance.
Practice replacing negative thoughts with positive ones – When you feel unattractive you believe you are unattractive. Did you know that it takes a thought a few weeks to become a belief? If you think something over and over you will eventually believe it, hence believing you are unattractive. No wonder it's a vicious cycle of self criticism!
So start replacing your negative thoughts with positive ones. Say them out loud to reaffirm them in your head so they start to turn into a belief. Say them to yourself in the mirror so you see yourself affirming them. Keep saying it until that moment when you really believe it.
Be a good and happy person – Yes this does make you feel more attractive.
Think of how you view happy and generous people. You think they are attractive right?
Now, think of how you view negative and grumpy people. I'm willing to bet they are unattractive to you.
That's the way people view you. You are a whole package and not just a body. People view you as such. So be happy and kind and you will find people naturally attracted to you.
Do attractive activities – Go out and take that pole dancing class you've been avoiding or the belly dancing class that always makes you feel good about yourself. Doing this kind of dancing makes you pay attention to your real body, not the one you picture in your head, and helps you to focus on all the great things it can do and has to offer. Plus dancing around a pole just feels sexy!
Article Source: http://bellaisafilippis.articlesbase.com/relationships-articles/how-to-feel-attractive-no-matter-what-2954285.html
About the Author
Want to learn how to be irresistable to men then visit the relationship circle today.
Bellaisa is an advocate for happy and stable relationships with yourself and with others and she has put together a site that has relationship advice, tips, articles, and resources for every stage of relationships.